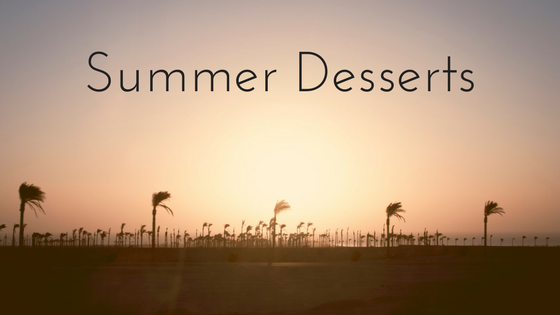 Summer is winding down, and we've only got a few weeks left to enjoy seasonal summer sweets. Head to your local grocery store here in Easton, PA for the ingredients you need to make a delicious dessert before the month is through.
Peanut Butter Cup Stuffed S'mores Brownies
Clearly peanut butter and chocolate is one of the most iconic duos of the dessert world, and this recipe makes the most of that fact by amping up your s'mores game by a few delectable degrees. This takes a bit longer to prepare because you'll make a graham cracker crust and brownies as you put this concoction together, but it's definitely worth it! Invest an hour in making this and then share the fruits of your success with your friends or neighbors for a treat that will wow anyone.
Fresh Fruit Tart with Vanilla Mascarpone Cream from Sally's Baking Addiction
This fresh fruit tart with vanilla mascarpone cream is an elegant and sophisticated dessert that we know your friends will enjoy. The vanilla mascarpone cream is made with mascarpone, heavy cream, confectioners' sugar, pure vanilla extract, and seeds from a vanilla bean. We can't get enough of the natural, sweet taste of this dessert.
Banana Pudding Cheesecake from Delish
This decadent dessert recipe combines two of our favorite summer sweets — banana pudding and cheesecake. You will love the way this dessert melts in your mouth. Serve this cheesecake with a side of hot fudge for an even sweeter summer treat.
Caramel Twix Poke Cake from Crafty Recipes
Turn your favorite candy bar into a mouthwateringly delicious cake. This easy recipe uses store bought ingredients and can be whipped up quickly; it's perfect for a picnic in the park with friends. Use condensed milk, caramel, a Twix, Cool Whip, and cake mix to make this treat this month.
Raspberry Lemonade Cheesecake Bars from Handle the Heat
You'll love the way the crispy crust and creamy cheesecake combine for a dessert that is cool, sweet, and delicious. Head to your local farmer's market here in Easton, PA for the fresh strawberries and lemons you will need to make this simple and sweet treat.
Do you have any summer recipes that you think we should try? Let us know in the comments. Thanks for reading the Palmer View Blog!