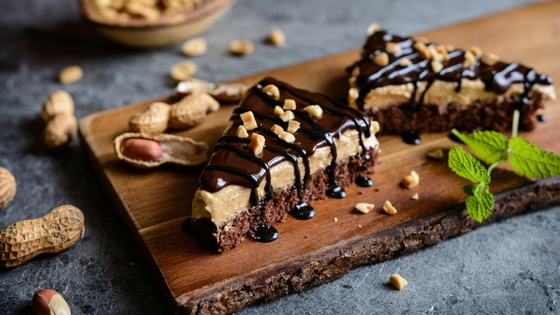 November is a great time for food: In addition to having Thanksgiving to look forward to, you can also celebrate National Peanut Butter Lovers Month any day this month! Today the Palmer View Blog is bringing you suggestions for how you can celebrate National Peanut Butter Lovers Month in your apartment. Try one or all of these recipes for some clever, creamy creations.
Peanut Butter Pie from Kevin & Amanda
Now is the time to pull out all the stops when it comes to pie-making. This one will be a hit, whether you whip it up for your Thanksgiving pie collection or you want to try it out another day. With a creamy peanut butter filling sandwiched between a thick, smooth chocolate layer and a crunchy Oreo crust, this is the treat for any fan of peanut butter and chocolate.
Sesame Peanut Butter Noodles from The Wholesome Dish
We love how peanut butter can be incorporated into a savory meal, and we think this recipe does it splendidly. Plus, it only takes 10 minutes! As the author of the recipe says, "I love these noodles because their sesame-peanut flavor really satisfies that Asian take-out food craving. And, since I can make them at home, I can control the quality of the ingredients that go into them. But, the best part is how quick and easy they are."
Slow Cooker Peanut Butter Chicken from Wholesome Delicious
We love recipes that include the slow cooker: all you have to do is dump the ingredients in and wait for the slow cooker to do its work while you do your own elsewhere! Here's what the author of the recipe says: "Slow Cooker Peanut Butter Chicken is a very simple and delicious dinner for busy weeknights! Let your slow cooker do all the work; prep time for this dish is less than 5 minutes!"
Thick and Chewy Peanut Butter Cookies from Dessert Now Dinner Later
Of course, there's nothing quite like a peanut butter-inspired dessert! These sound like a fantastic option to satisfy your cravings for something creamy and delectable to bite into: "These Thick and Chewy Peanut Butter Cookies are slightly crisp on the outside, tender and soft on the inside, plus you just scoop and bake them! No rolling in sugar and pressing with a fork required!"
What are your favorite ways to cook or bake with peanut butter as a main ingredient in your dish? Share your creations with the rest of us by leaving a comment! Thanks for reading. We hope you enjoy the host of food creations available to you this November and the rest of the year here in Easton, PA!